TAKE ACTION:
Tell the Oregon Legislature: Paid Sick Days Now!
Everybody gets sick. But not everyone has the time to recover. 43% of people working in Oregon don't earn paid sick time while working – not a single day!  That's not healthy for them, their workplaces, their families, their schools – or the people they serve.  When workers earn sick time, everybody benefits.
Take action today to let your legislators know that you believe all workers in Oregon should have the opportunity to earn paid sick time off while they work.
Workers in Portland will earn sick time starting in 2014.  What about the  rest of Oregon?
We Can't Afford to Wait.
We have the same problem across Oregon that we had in Portland: Too few workers earn sick time, but we all get sick.  40% of all private-sector workers and 80% of low-income workers have no paid sick days from their job – not one.  Everybody gets sick, but not everyone gets the time they need to recover or care for sick family members – and it affects all of us.
But there's a solution: Require that all workers can earn sick time while working, wherever they work.  Portland City Council became the 4th city in the nation to require employers to let employees earn sick time while they work.  Ensuring that all workers have the time it takes to care for yourself and family members when sick is practical, equitable, preventive – and urgent.  Oregonians just can't afford to wait.
When workers earn sick time, everybody benefits.  Here's how:
1. EARNED SICK DAYS ARE GOOD FOR PUBLIC HEALTH.
It's a fact: illnesses spread in workplaces.  During the H1N1 epidemic, an estimated seven million cases were contracted at work from people who came to work sick.  The federal CDC asked them to stay home to prevent contagion, but that can be hard to do without earned sick time.
Yet, 40% of people working in the Portland area have no earned sick leave – including thousands of local grocery stores, restaurants and medical centers.[1]
74% of food service workers in the Portland area have no paid sick leave, even though handling food is one of the fastest ways to spread illness.[2]
2. EARNED SICK DAYS ARE GOOD FOR FAMILIES.
The last thing many families can afford to lose is a day's pay – especially these days. Even one day without pay can prevent a family from affording rent, a medical co-pay, or a heating bill.

Earned sick time helps people stay in their jobs. A recent study showed that 16% of workers had actually been fired from their job for taking time off due to personal illness or to care for an ill family member.[3]
Working parents with paid time off are five times likelier to stay home to care for a sick child than those without paid time off.[4]  Sick kids should recover at home.
3. EARNED SICK DAYS ARE GOOD FOR BUSINESS.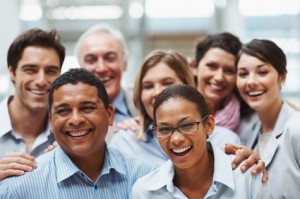 Employers save money by allowing workers to earn paid sick days. How can this be? Employees who stay home when sick are actually more productive than employees who work when sick.  In fact, "presenteeism" – when workers come to work sick – costs employers an average of $255 per employee per year.[5]
Workers take a median of only three sick days a year, even when they've earned more. And 9 of 10 employers rarely or never need to hire replacement workers when employees use sick leave.
A minimum standard for earning sick days levels the playing field for employers who already provide this benefit.[6]  In San Francisco, where all workers have been earning sick leave since the 2007 ordinance, fully 2/3 of the businesses support the policy.
---
[1] Institute for Women's Policy Research (IWPR)
2 IWPR
3 http://paidsickdays.nationalpartnership.org/site/PageServer?pagename=psd_inde
4 Jody Heymann Forgotten Families (from Denver sheet)
5 Vicky Lovell, Valuing Good Health:  An Estimate of Costs and Savings for the Healthy Families Act, Institute of Women's Policy Research, 2005.
6 Christine Siegwarth Meyer, et al, Work-Family Benefits:  Which Ones Maximize Profits? Journal of Managerial Issues, vol. 13, no. 1, Spring 2001